!?xml version="1.0" encoding="utf-8"?> <!!DOCTYPE html PUBLIC "-//WAPFORUM//DTD XHTML Mobile 1.2//EN" "https://www.openmobilealliance.org/tech/DTD/xhtml-mobile12.dtd"> <!html xmlns="http://www.w3.org/1999/xhtml" xml:lang="en">
Kernersville's
Original
Bar & Grille
993-6699


WEEKEND SPECIALS! 9/13-15
| | |
| --- | --- |
| | App - Seafood Nachos w/ Charizo, Tomatoes, Jalepenos and Green Onions topped w/ Chipotle $12.99 |
| | Coconut Shrimp w/ Rice & Asparagus served w/ Maize Curry Sauce on the side $17.99 |
| | Grilled Ribeye topped w/ Lobster Florentine served w/ Potatoes and Green Beans $28.99 |
| | .. |
| | .. |

** Each of these 'Weekend Specials' may not be available towards the end of each weekend, depending on their popularity & availability!
<!img src="halloween2009/17.png" width="220" height="128" /> <!img src="halloween2009/39.png" width="158" height="130" /> <!/p> * Smitty's Grille does NOT make reservations, nor do we have call ahead seating! *
** The images below are examples of our recent specials, as they are seasonal and change regularly! **
Pan Seared Cod
Buffalo Chicken Quesadilla
Grilled Mahi Mahi
Yellow Fin Tuna
Bourbon Glazed Sirloin
Parmesan Crusted Swordfish
Crab Legs
Swordfish
Grilled Swordfish with Tropical Salsa
Fish n Chips
Crabs
Shepherds Pie with Braised Lamb
Grilled Shrimp
Filet and Grilled Shrimp
Sesame Crusted Ahi Tuna
Cold Drafts
Bacon Crusted Salmon
Seared Scallop and Mushroom Risotto
Twin Lobster Tails
Since opening in 2005, Smitty's Grille has quickly become the place to meet and eat in Kernersville. Known for the best seafood in town, Smitty's not only has mouth watering fresh seafood but also a wide menu including steaks, burgers, pastas and daily specials.
- WEEKLY SPECIALS -
| | | |
| --- | --- | --- |
| Monday: $2.25 Domestic beers | | Tuesday: TBA |
| Wednesday: $2.25 Domestics | | Thursday: $2.25 Domestics |
| Friday & Saturday: Fresh fish specials | | Sunday: $2.00 Domestics |
Smitty's Grille is happy to offer personalized catering for your next event.
Birthdays - Pool Parties - Anniversaries - Oyster Roasts
- All ABC permits -
Hours:
Monday - Thursday 4:30 - 10:00pm
Friday and Saturday 4:30- 10:30pm
Sunday 4:30 - 9:00pm
838-E S. Main St. Kernersville, NC
<!a href="http://www.facebook.com/group.php?gid=155735661694" target="_blank"> <!img src="images/facebook9220.png" alt="Smitty's on FB" width="92" height="20" border="0" /> <!/a> Google Places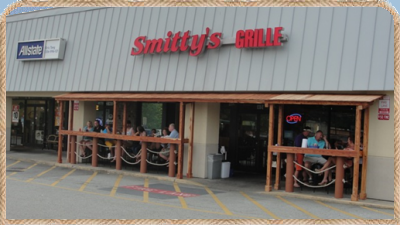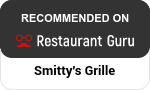 ---
Google+
© 2019 Smitty's Grille, Inc. - Kernersville, NC - Designed & maintained by Rich's Web Design